Have you pulled away from your spiritual beliefs, especially if you feel they no longer have any substance? Many of us have become "mediocre believers" turning to God only in times of crisis. Perhaps you may not even know what or who you believe in at this moment of your life.
We suffer disappointments and sorrow and tell ourselves that God has let us down never realizing that there may be a divine reason for a traumatic incident in our lives. Feeling betrayed and unloved, we detach ourselves from God and deny His existence. We cut ourselves off.
But, who then may we turn to in times of crisis? If you have ever searched for your purpose in life or pursued answers to life's many mysteries, you realized that you often do not receive the answers you are looking for - at least not right away. In moments of despair, we must summon our faith and trust in the power of prayer.
Knowing How to Pray Effectively

If you have become discouraged because your prayer efforts are not being answered most of the time it may be because you are unaware as to how to reach God effectively. If you go to God just to get God to fix something that is "going wrong" in your life, you're missing the point and power of prayer. The most important thing to expect in prayer is contact with God. We must first recognize His presence and His power and His goodness in us. Investing time with God daily will enable you to set your mind like a trap to catch the wisdom and thoughts of God. Instead of constantly babbling to God about what we need and what we want for ourselves and others - we must take a breath and listen for God's message to us. We must trust in our intuition as advice from God. When we enter into prayer, we are recipients of the divine electricity of the Holy Spirit flowing to us upon request. The awareness that light-energy is coming to you in this time of communion with God is the answer to your prayer. Results will follow in one form or another.
People want the answer to their prayers to be in words. They want direct guidance from someone or a promise that tomorow is going to be all right. Yet the instant our thoughts are focused on God, the eternal I AM, that I AM-ness, is activated in our lives. The word "Yeshua" means "I AM saves." Jesus was referring to the in-dwelling Spirit of "I AM" as the resurrection and the life." When you begin to acknowledge God as the eternal, ever-present "I AM," then your fears will begin to diminish.

Very recently, I was fortunate to become acquainted with a spiritual mystic whose mission is to make God credible once again to people who have lost faith in organized religion but still desire a spiritual life. He has lectured and healed thousands of people in his twenty five year ministry. A contemporary mystic, he has his own website, (www.ronroth.com) and has written several inspiring books. The following concepts are taken from his recent publication - The Healing Path of Prayer - Ron Roth, PH.D. Ron's insights are powerful and loving as you will see.
Here are the essentials Ron brings to our attention:
Repeatedly in the Gospels, Jesus names personal, inner faith as the immediate cause of the miraculous. He stated plainly: "Whatever you ask in prayer, you will receive if you have faith." But he adds one crucial condition: "Whenever you stand praying, forgive, if you have anything against anyone; so that your Father also who is in heaven will forgive you your trespasses." Healing requires faith, prayer, and forgiveness.

CENTERING
Simplify your prayers, allowing yourself to dwell on a single word or phrase (God, Abba, Light, Love, Jesus, etc.) until the repetition carries you into a blissful feeling of unity with God unlike any you may have achieved from wordier prayers. When you pronounce a name with love - any name - , you make a connection with it. When you call on the name of God or use another sacred word, you will begin to see the power that simple prayer can unleash.
Silently introduce the sacred word into your awareness, reminding yourself that you are using this word as a symbol of your intention to consent to God's presence and action in your life. Never fear that your prayers will not be answered. Our fears short-circuit the energy emitted during our communion with God.
When distractions come to you - and they will - gently return to the sacred word and continue to repeat it to yourself.
Remember that you must be involved in your own healing. Without being receptive (listening) to God's energy, you cannot genuinely heal. Nourish that receptivity daily and keep it active within you. Moreover, when we pray for healing we must also acknowledge our own thoughts and feelings. Acknowledging and owning them is not the same as obsessing about them. You can focus on the problem in a positive way.
Example: Instead of obsessing about chronic financial difficulties you might pray: "I know, Lord, that your desire is to prosper me in all areas of my life. Right now I open my entire being to receive your prosperity flow."

GOD AS LIGHT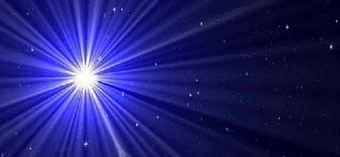 The essence of of God is light; the essence of God is energy. When God said, "Let there be light," He created from the essence of His own being and set into motion a process in which everything created from this time on would contain the essence and the life of God. This primal energy is the "Holy Spirit," which was there at the begining of creation according to the Genesis account. Vibrations of power emmanated from the spoken word of God because energy never dies. Through the flow of creative energy, everything else came into being in an orderly fashion.
A HEALING MEDITATION: GOD IS LIGHT

In the first letter of John are three powerful words: "God is light." The light of God that radiated through Jesus is in each of us. As you ponder the words "God is light," bring your awareness to your breathing because the breath is also a reminder of the very life of God entering into your whole being. As we breathe in, we breathe in the light and the breath of God. As we exhale, that light which has now coursed through our body exists to touch the world around us. Thank God for His light, His peace, His presence, which fills and heals the whole world. We are all one in God's love and so we all can experience His healing touch upon our lives.
Remain quiet for two or three minutes as you let God love you.

Whatever the scientific definition of electricity may be, most of us associate it with its manifestation as light and heat. If God is light energy that sometimes manifests as fire, it's not a stretch of the imagination to see God as electrical energy. This energy is always present in the atmosphere but becomes palpable for us only when we set our appropriate receivers to catch them. This is true with prayer. Divine energy is in the atmosphere surrounding us all the time, but unless our receiver is turned on and properly tuned, we may not be able to avail ourselves to it. We often act as if we were the transmitters. When we pray, we are constantly babbling to God about what we need and what we want for ourselves and others instead of listening for God's message to us.

The word for prayer in Aramaic, the language Jesus spoke, is slotha, the root of which means literally "to set a trap." In the sense in which Jesus used the term, he meant that when we pray we should keep our attention focused and wait patiently to catch the thoughts God has for us. Christ's conception of praying was the opposite of what prayer has come to mean: begging God for help or special favors. The attitude Jesus advocated in prayer was one of being completely open to whatever thoughts, feelings, or desires God wants to convey to us. If you are convinced that God is just waiting to hear you acknowledge your openness to His divine will so you can be made to suffer - you may hesitate to offer yourself to Him in this fashion.
Recognizing our oneness with the Source of all life, and being aware of and receptive to the grace that is flowing to us in the stillness of being, is the heart of authentic prayer. If you learn to acknowledge God by being aware of His presence continually, your spiritual digestive system will automatically receive the food of God's light energy and distribute it where it ought to go in your life. The most important thing to expect in prayer is contact with God. Unless we are quiet, how can we open our mind to set a trap to catch the thoughts of God?
We must rekindle our faith in miracles and rediscover the mystical in the everyday. Christianity was established on miracles and spiritual phenomena.

ABBA
When you go to the Father, Jesus said, the first thing you need to understand is that your spiritual Father is a Daddy. The Aramaic words Jesus used were Abba or Abwoon, which are closer to "Papa" or "Daddy" than to the more formal "Father". Jesus is telling us that we can go directly to the Father and address Him as intimately as a child approaching his Dad, because He is not some distant, fearful figure but a Being of light and love. Jesus is saying that God is concerned about everything that concerns you, and if your Daddy loves you unconditionally, there is nothing you need ask that He has not already supplied. All you need do is declare to yourself that this is the truth.
As Jesus' words were translated from the Aramaic, too much was unfortunately lost, and our spirit can easily miss the Spirit he was trying to communicate. In the case of the Lord's Prayer, a whole series of positive affirmations turned into a series of petitions to God. Jesus' meaning was subtly distorted in other ways as well. For instance, Jesus told his disciples to pray and to heal in his name. Over the ensuing two thousand years, that request has degenerated into using the name of Jesus like a rabbit's foot. Some believe that if you tack that phrase onto any prayer or request for healing, it will carry greater weight with the Father. We often hear television healers, for instance, pray for a healing "In Jesus' name. Amen!" That wasn't what Jesus meant at all when he told his followers to pray in his name. The statement in Aramaic meant as "I would do it".
The Aramaic word besheme, which has been translated in the New Testament as " in my name," actually means "according to my approach or my way of doing things." Jesus meant, "When you pray, pray in this manner, with this approach. State from the beginning, Our Daddy who is everywhere present." The message is clear: When you approach God, don't stand in a corner begging and pleading. Enter in all humility but enter with your head high into the presence of your Daddy who is everywhere. There is no place in the universe where an individual can be that God is not.

THE LORD'S PRAYER
Click here to view the lordsprayer in Aramaic
Although the New Testament was written in Greek and the Old Testament in Hebrew, Jesus spoke Aramaic, the lingua franca of the region, when he preached to the people of Judea. Aramaic has linguistic links to both Hebrew and Arabaic and is considered by many scholars to be older than either of those languages. When the Aramaic words of Jesus were first translated into the Greek of the Gospels, much of their original intent was obscured because of the great differences between the two tongues. Subsequent retranslation into Latin, Old English, and modern English has only worsened those initial distortions, and has helped embed them in our consciousness.
Every statement of Jesus in the Aramaic was an affirmation or a declaration of truth, whereas the Our Father as it has been translated from the Greek culminates in a long string of petitions. After telling his followers not to "heap up empty phrases as the Gentiles do" (and as most of us, sadly, have been taught to do), he adds, "Do not be like them, for your Father knows what you need before you ask him." If God already knows what we need, why ask at all? Better to affirm.
The Aramaic understanding of God as the divine breath that created all the universe and that has the power to restore and heal can also permeate our spiritual life today. Every time you inhale with that awareness, you begin to believe in the possibility that the energy of God enters into you with every breath. Every time you exhale, all of the spiritual toxic waste goes back out into the universe where the light, love, and heat of God's Spirit is present and disolves it.
We can recapture the original meaning of the teachings of Jesus, however, by looking at the language in which Jesus thought and taught to see what the words can tell us about his true intentions. Biblical scholars generally agree that the Gospels were not written down in the Greek on which all current translations are based until at least forty years after Christ's crucifixion. Some of these scholars conjecture that the Gospel accounts, which were not written by eyewitnesses bearing the names of the four Evangelists, may have been based on an Aramaic original of which no copy has yet been found.
Although we do not have that original Aramaic manuscript, we do have something known as the Peshitta Version of the Syriac Aramaic manuscript of the Gospels, which some Eastern Christian scholars believe dates from the second century A.D.
The Transfiguration of Jesus

Perhaps the most telling episode in the Gospels connecting prayer with the power to heal is the story of the Transfiguration of Jesus (Chapter 9 of the Gospel of Mark.)
Jesus took with him Peter and John and James, and went up on a high mountain, apart from themselves. And he was transfigured before them and became resplendent with divine brightness. And his garment became glistening, intensely white, as no fuller on earth could bleach them. And Eligah appeared there to them, accompanied by Moses, and they were holding a conversation with Jesus.
After this extraordinary event, they descended from the mountain and were greeted by a crowd, out of which a man came pleading to Jesus to heal his son who was an epileptic. Jesus performed the healing and when his disciples asked him privately how this was accomplished, Jesus replied, "This kind of healing cannot be accomplished by anything but prayer.
Jesus may have been talking specifically about a kind of prayer known as decree. He practiced this form of prayer regularly. In its simplest form, decree is a command for something to come to be. The level of faith and confidence required for such a decree to bear immediate fruit is obviously quite high. Although decreeing that a seriously ill person heal instantly may seem beyond the capabilities of most of us, an awareness of the syntax of decree will help our thinking with regard to prayer in general. In the meantime, as our faith grows, we can certainly practice a from of decree known as blessing.
A blessing is not a petition; it is not even an affirmation. A blessing is an actual event. The difference is that an affirmation literally means an attempt to make firm something that may not as yet have physically manifested as a reality. (example: I am now at my ideal weight when in fact you are fifty pounds overweight). You can turn any statement into a blessing by calling it upon yourself in a simple way that is easy to master.
To bless does not mean to ask God to do something but instead to declare His intention and willingness to do it.
Example: The Lord bless you and protect you.
Blessings are powerful conduits of spiritual energy. When you proclaim a blessing over a person or situation, you desire to bring forth the goodness inherent in that person or situation. By the act of blessing, you declare the good in a person or situation to be manifested. Blessings produce tangible experiences of energy vibrations. People on the giving and receiving end often feel a tingling sensation passing through their bodies as God's creative energy moves through them. Prayers we were taught to memorize and say out of habit do not produce these vibrations.

The prayer of blessing can be coupled with decree to become an even more powerful form of healing prayer. The difference between blessing or decree and a petition may seem slight, but it is all the difference in the world. When you decree a blessing by saying, "Let the Lord bless you now" or "Let the Lord's peace be on me now," you are neither begging God to give you something nor telling Him to do something. Instead you are calling down on yourself or on whoever is the object of your blessing - the energy of God that is always present everywhere in the Universe. Decree is mentioned in the Book of Job (22:28): "Thou shalt also decree a thing, and it shall be established unto thee: and the light shall shine upon thy ways."
Decreasing the original energy released through decrees by replacing the decree or affirmation with a petition happened with the Lord's Prayer when it was translated from the Aramaic language of Jesus to Greek, Latin, Old English, and modern English.
Be advised that you can also decree the negative to come to pass in your life if you keep focusing on what you don't want to happen or most fear.
When you communicate with God, you must see yourself as wonderously made, which is to say, made in the image of God as Spirit. The essence of your being is the light of God, the energy of God, the Spirit of God. All of this represented a new concept for the people of Jesus' time (and us too) who had forgotten or were not aware that God was a Daddy. They still saw God as a punitive Being ready to punish them for their transgressions - the way many fundamentalists see God today.
But only coming to your Daddy when you are in crisis or want something is not very loving on your part. How would you feel as a parent if your children only came to you when they wanted something? Our loving Father needs to hear from us daily. When we pray we show our appreciation and love for all we have received from His Divine abundance.

Exercise for Self-Blessing
Blessings, like charity, begin at home - in this case with self-blessing. So begin by sitting in your chair or meditation place and take three deep breaths. Repeat:
The Lord bless me, the Lord keep me
The Lord make his face to shine upon me, and the Lord be gracious unto me:
The Lord turn his face toward me and grant me peace and completeness in all areas of my life and on all levels of my being. Amen.
When saying the blessing, pronounce it slowly and distinctly and say it out loud if circumstances permit. Recall that "Amen" in its original form means "God is faithful." Have faith that God will deliver His promise.

Other considerations:
Surrending - being receptive - to God's will may at times mean that we do not immediately get well. Sometimes it is a call for us to immerse more fully in the illness or suffering to understand what is needed to be healed on a deeper level - on the level of soul or spirit. To do that can require a supreme act of surrender, or remaining receptive to God's thoughts and will for us in the most exacting of circumstances. We all tend to run away from pain without asking why the pain is speaking to us in the first place. We must discover the core issue that has caused the illness or pain.
There comes a time in all of our lives when we must ask ourselves, "Do I want to be whole?" If the answer is yes, the energy of God in the form of guidance and wisdom will flow in our direction. The energy that goes out during prayer is one that the human mind cannot comprehend but the human body can feel. We have been wired by God for faith, but if we use that faith in a negative way - we will surely produce something negative. We have to begin to understand who we are. We are elegant spirits made in the image as the likeness of God. We are emanations of God. That's why we are wired to excel - not be mediocre. We are wired to to be decisive. We are wired to be conquerors of all our problems. We are wired for what is called the "word of knowledge," or the word of wisdom and spiritual understanding. Today we might call this clairaudience, clairvoyance, clairsentience - the moments in which you get revelations. We all have the potential of these abilities but they must be cultivated.
In conclusion, my prayer is that God envelop us with a blanket of healing, love, and abundance
Recommended reading:
The Healing Path of Prayer, Ron Roth, PH.D
Holy Spirit, Ron Roth, PH.D