Ideas, as someone once pointed out, have consequences, and no amount of denial will refute this simple truth. We are the product of the many challenges and ideas to traditional thought which have influenced the ways in which people, like you and I, think, write, read, perceive, and live.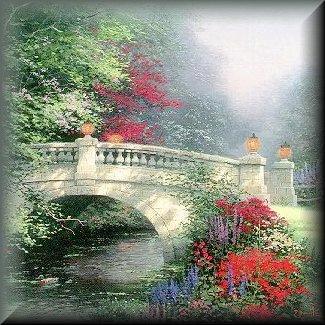 Concepts, like the various beautiful flowers in the above picture, possess emotion, uniqueness, beauty and a presence - each contributing something vital in the overall scheme and effectiveness of this picture, which is synonymous with how we see and define Life.

Universal Mind . . .
I have always held that ideas do not belong to anyone. All ideas derive from God; therefore no idea belongs to any one person. We all have access to every idea in the Divine Providence. All concepts are universal.
We know that things are not always what they seem. For instance, the earth and the sky do not meet . . . the horizon is simply the limitation of our vision, but not a thing of itself. We also discover that the hurt has largely disappeared from experiences we have had, which at the time we were having them, seemed very trying.
We know that a two-dimensional mind looking at a cube would not see the cube; to it, the cube would look flat. Similarly, at our stage of evolution, our three-dimensional minds might well be looking at that which is four- dimensional or more. So if our gaze is focused only on the physical, we might be looking right at the spiritual, the mental, or the intellectual . . . and not see it.
Science has proven that there are almost infinite variations of vibrations of color and sound that the human eye and ear do not detect because they are not perfected enough.
There have been people like Jesus, and a good many others, who experienced what we call "cosmic consciousness". They have looked through the material universe into a spiritual universe, and they have announced this spiritual universe.
We do not have to become immortal. We do not have to become spiritual. We already are. We may wish to experiment with this reality. Every time we pray for a spiritual healing, we are experimenting to see what we can make the "mind" do for us. The mind is creative because it is God. All thought is divine. We need not look for some other power; we already have the power. Since it is invisible, it transcends anything that is visible.
If we could for one moment break through this shell that we are looking with, we would see reality. I believe that there is Spirit in humans and this Spirit is God. It is in all people and is one Spirit - just one - although there are different manifestations of it.
This thing we call the "personality" is the objective evidence of the use we are making of our invisible and subjective individuality, the projection of the powers, presence, and intelligence in us, as us. In other words, consciousness itself is God - one indivisible, infinite, and eternal reality.
We need to believe that reality has already been delivered to us . . . reality as we see it, according to our awareness.
Ernest Holmes 1927


Past, Present and Future
History, it has been said, is the science of the future, i.e., if we wish to control our future and direct it towards desirble ends, our main hope must be to study the past in order to learn what we can about how society develops, and apply to our time the lessons thus gained.
Surely the most obvious lesson that one can learn from history is the emptiness of the word "impossible". Almost every achievement by man was regarded as impossible a little earlier. The question to be asked is never "Can we do this desirable thing?", but always "How can we do it. What are the conditions for achieving it?"
Samuel Lilley 1914


The written word . . .
Historians undertake to arrange sequences - called stories, or histories - assuming in silence a relation of cause and effect. These assumptions, hidden in the depths of dusty libraries, have been astounding, but commonly unconscious and childlike; so much so, that if any captious critic were to drag them to light, historians would probably reply, with one voice, that they had never supposed themselves required to know what they were talking about. Henry Adams had toiled in vain to find out what he meant. He had published a dozen volumes of American history for no other purpose than to satisfy himself, by the severest process of stating, with the least possible comment, such facts as seemed sure, in such order as seemed rigorously consequent, he could fix for a familiar moment as necessary sequence of human movement.
The result had disatisfied him, as little as at Harvard College. Where he saw sequence, other men saw something quite different, and no one saw the same unit of measurement.
Satisfied that the sequence of men led to nothing and that the sequence of their society could lead no further, while the mere sequence of time was artificial, and the sequence of thought was chaos, he turned at last to the sequence of force. After years of pursuit, he found himself lying in the Gallery of Machines at the Great Exposition of 1900, his historical neck broken by the sudden irruption of forces totally new.
The Education of Henry Adams 1918


Survival of the fittest . . .
In looking at Nature, it is most necessary never to forget that every single organic being may be said to be striving to the utmost to increase in numbers; that each lives by a struggle at some point of its life; that heavy destructions inevitably falls either on the young or old, during each generation or at recurrent intervals. Lighten any check, mitigate the destruction ever so little, and the number of the species will instantaneously increase to any amount.
When we reflect on this struggle, we may console ourselves with the full belief, that the war of nature is not incessant, that no fear is felt, that death is generally prompt, and that the vigorous, the healthy, and the happy survive and multiply.
Charles Darwin 1809-1882


Dropping Knowledge . . .
When you are ready to drop falseness, drop borrowed knowledge, and go into your own wisdom . . . you have reached awareness and consciousness. You are enlightened.
How many of us spend a lifetime of studying philosophy, history, religion, art, music, epistemology, logic, language, holistic disciplines, etc. and try to absorb the interpretations written by and through the perceptions of others. How many of us really understand these words, concepts . . . ? Do we only memorize and not connect with the sense, the core of these principles and what they trigger within each one of us? While we owe our sincere thanks and appreciation for the wonderful inspirational and creative endeavors of others, we should not strive to emulate them or become their disciples. Rather we should selectively embrace those concepts and principles which ring true in our hearts and souls. Look inward to the beauty and wisdom of your own soul.
A person of true wisdom and understanding has a freshness about him; a unique fragrance emanates from him that is totally different from the mundane and mainstream. He becomes a unique, magnificent blossom of beauty in the flower garden of mankind.
Carol Reimer 2000


Of all the elements, the Sage should take Water as his preceptor. Water is yielding but all conquering. Water extinguishes fire, or finding itself likely to be defeated, escapes as steam and reforms. Water washes away soft earth or when confronted by rocks, seeks a way around . It saturates the atmosphere so that wind dies. Water gives way to obstacles with deceptive humility, for no power can prevent it following its destined course to the sea. Water conquers by yielding; it never attacks but always wins the last battle.
Anonymous


God's Gift
Imagine, if you will, that you've been given a large package. Within that package, are 365 beautifully wrapped gifts. You are told that you can open only one gift per day and that each gift contains some exquisite, precious, priceless gem. Can you imagine the excitement as you anticipate opening that gift?
Yet each day we are given a precious gift, wrapped in the blue of the sky, the green of the grass, and the whisper of the wind. We are given the gift of twenty-four irreplaceable hours that no amount of money can ever buy. What if we were to approach each day knowing that it is a glorious gift, simply waiting to be opened and lived? This is the beginning of a new year and a new millennium, in which each of us is given the gift of today - a day more priceless than the most exquisite gem. Our mandate is to go forth and live each moment of this day, for truly it is God's priceless gift to you and me.
Rev. Barbara White 2000