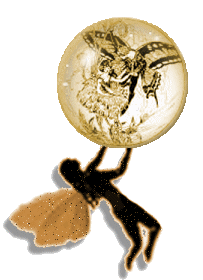 Faery lore abounds in nearly every culture in the world. References may be found to the "nature spirits" in all sorts of records, ways, and names; all strikingly similar to each; all having like characteristics. The magical and fantastical association with these wee folks persist even though they may be dealt with differently according the beliefs of indigenous people and their cultures.


While each Faery has his/her won talents, traits, etc, there are many common characteristics. Most hate a profuse display of thanks and prefer instead to be appreciated with sweets and sometimes beverages. Most love luxury and pretty things to adorn themselves with. You will often find them resplendent in their foliage, flowers, gold and treasured jewels. They love shiny tumbled stones.


Faeries are known to live in trees, your home (if it suits them), mushroom groups, underwater systems, your garden roots, Burgh's or underground dwellings beneath hills and mountains. They live either solitary and reclusive lives or clan together to form a "troop". The latter are believed to be friendlier and more willing to be of help to humans. The more unfriendly ones are most active at the time of the Waning moon while the friendly ones are more active during the Waxing moon.

Some of their favorite plants and herbs are Mistletoe, Foxglove, Jasmine, Primrose, Cowslip, Tulip, Straw, Strawberries, Dates, and Poinsettias.


They seem to have a fondness for horses as this is the only animal in the world not ever harmed by any fairy known. The "Lucky Horseshoe" is said to have originated in this belief of the Fey's love of horses.


Faeries love music and dance to hypnotic and beautiful sounds. They themselves are thought to be fine musicians. It is said that when someone is daydreaming they are in fact caught by the music of the Fey.

Extremely sensitive, you must use caution when dealing with the Good Folks. Never lie to the Fey or tell false stories about them. If you happen upon one, be as honest as you can. They are hurt very easily and insulted even easier. They are known to be extremely competitive and will dare to match their skills against another at any time.

Here are some of my favorite fairy pictures